No posts because I've been too busy! Had so much going on lately... right now I have several projects going: a washcloth, a Home Sweet Home thing done in filet crochet, a towel, an afghan, and a Snuggle... I ended up with 3 for March: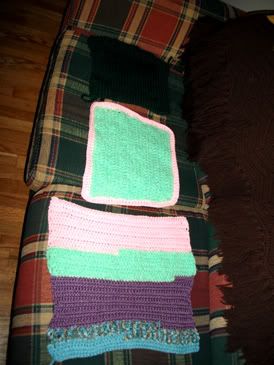 I actually managed to knit one, although you can't see it. Yes, they're ugly, but the pets will like them, I hope... I'm going to give them to PAWS Chicago.
This is just an update- hopefully more patterns soon, but with the way things are going I've already got my hands full! I will post a pic of the Simple and Pretty pattern soon though.
Cheers!